Generate Company Specific QR Code
QR codes are becoming popular as it's capable of storing lots of data and allows user to access the information instantly. Today most of the businesses like restaurants, retail houses, coffee shops and consultants have started using QR codes to get noticed, generate sales and do it more with contactless solutions.
QR Codes, in short for "quick response" codes are square-shaped, two dimensional barcode that stores information in black and white data pixels (or "QR code modules"). Besides the black and white version, you may also create a colored QR code with your company logo inside. For these codes to work without any error, make sure the contrast is good and the result is not a wrong (in terms of color).
Get Started
Create your custom QR Code with Logo
Want to have your QR Code unique? Set your brand colors and replace the standard shapes of your QR Code. With your JoyQR account, you will get to choose and customize your own QR code with a perfect QR builder suiting your business needs.
If you are on our free plan, you may not see some advance settings available. But if you have subscribed to our Pro Plan, you will find a whole lot of possibilities to design your QR code as per your brand.
After you click on the 'QR Code' icon on the top of your dashboard, you may start to choose from Module Settings and Eye Settings you want for your QR Code.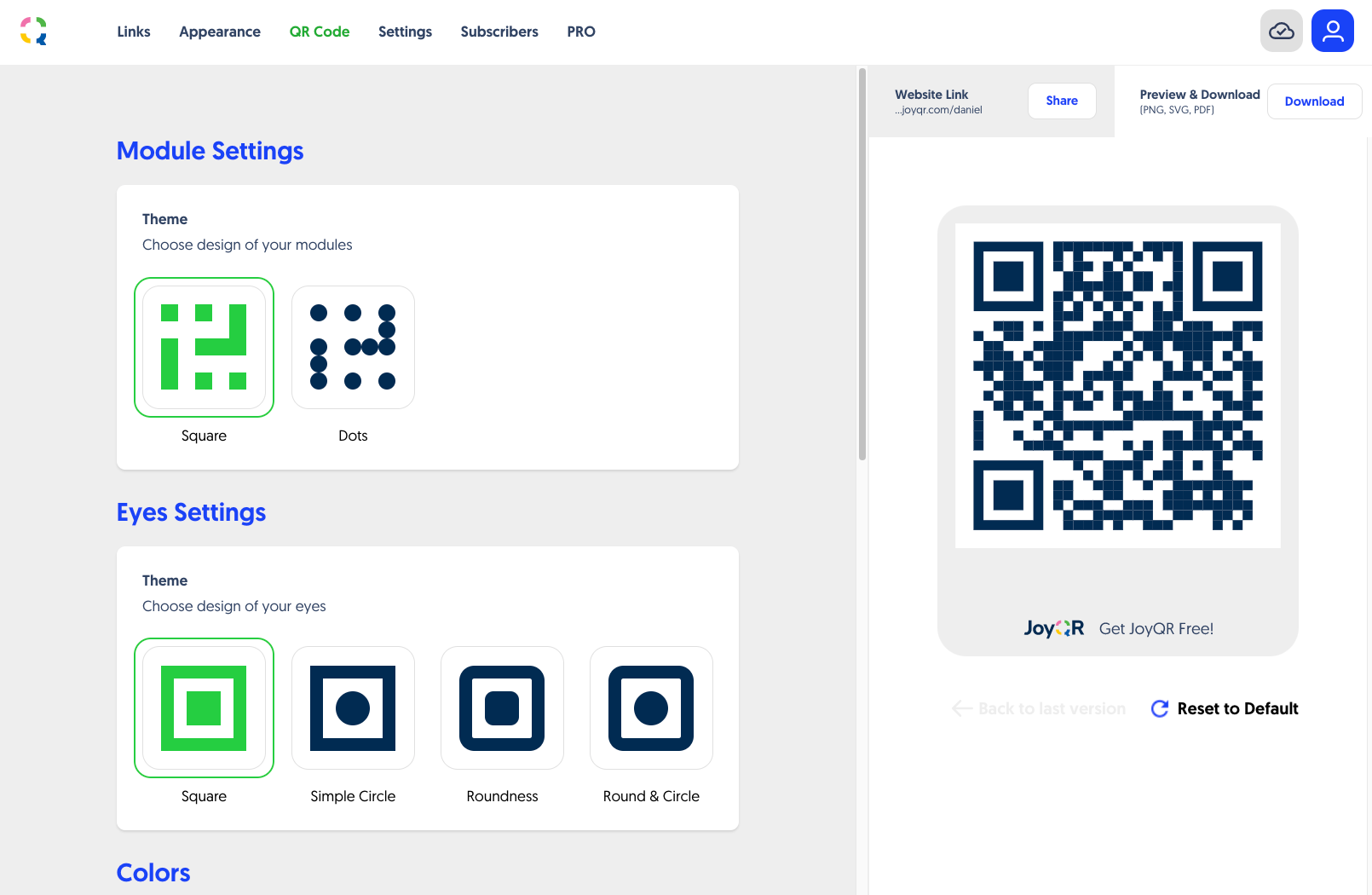 For Colors, you may choose any color of your choice for different gradients but make sure it doesn't affect your QR code's readability. You may also edit and choose colors for the Eye of QR Code and make it even more catchy for your users to attract.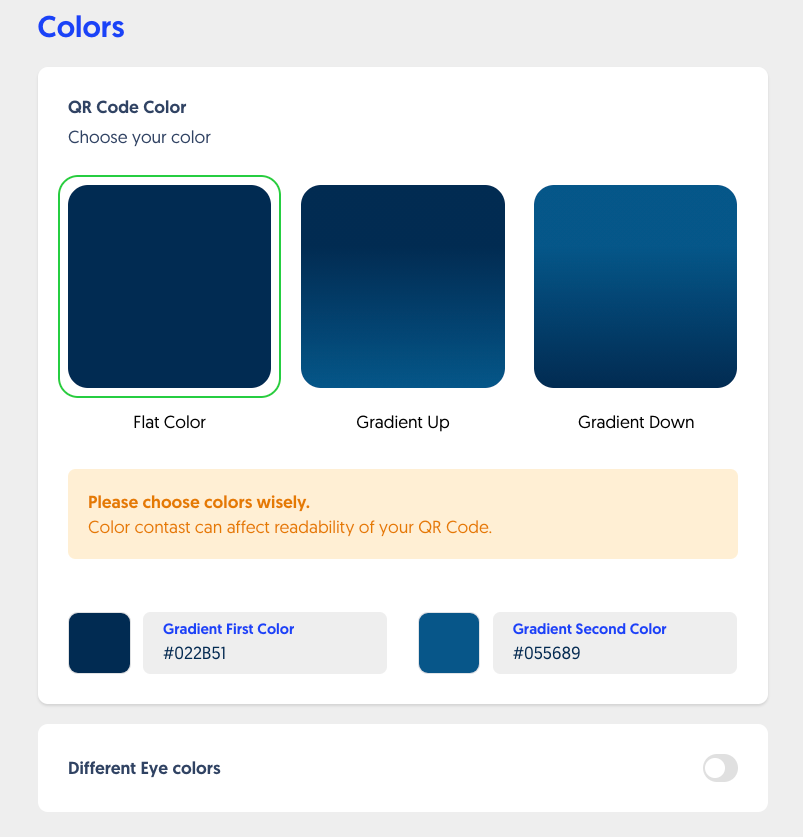 Then, you may choose to add a logo in the center of your QR Code. Click 'Upload' and choose an image from your device.
Under Appearance, Just toggle the button to green and start making the desired changes to your QR code. You may add, QR Code Title with an option of choosing the Font, Font Size and Font Text Color. You may also select the QR Code background color to fill in different modes like Flat Same Color, Gradient up or down colors, while making sure its readable. All these edits, will highlight your QR code when placed publicly, showcasing your brand.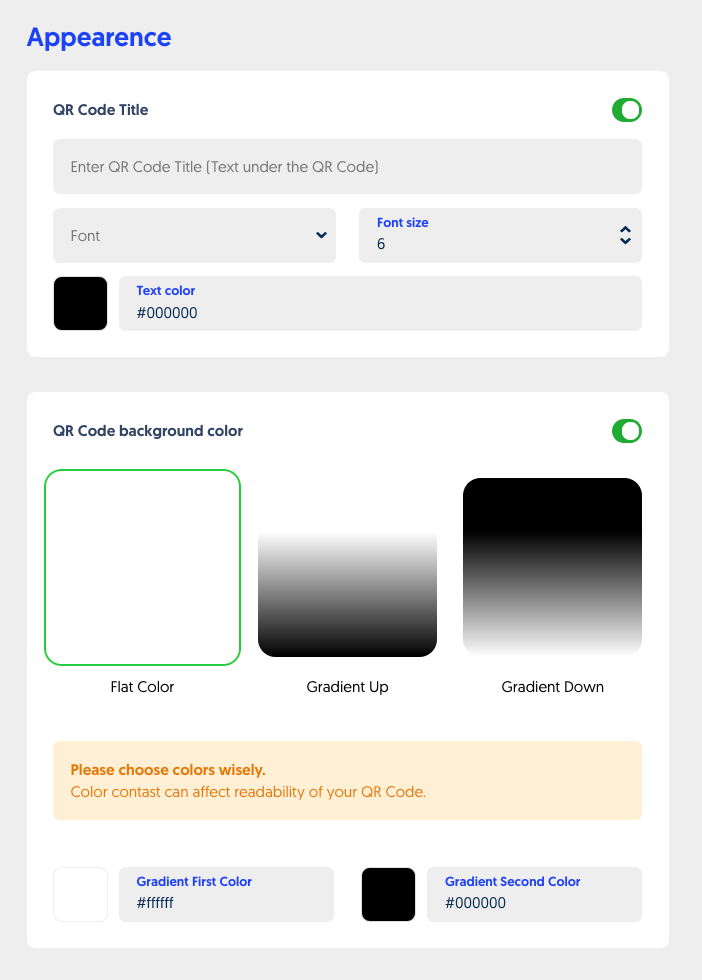 In the end, You may also hide JoyQR logo from your QR code, if you enable the toggle button on the right.

And you are all set to Download and Print your Fully Customized QR Code!